SERVO CONTROLLED L.T. AUTOMATIC VOLTAGE CONTROLLER (STABILIZER)
Voltage fluctuation is a common phenomenon in every part of the country. Inspite of best efforts, no state electricity board can ensure constant voltage to the customer because of long and inadequate distribution lines and irregular load pattern on distribution transformers. Automatic Voltage Controller (Stabilizer) is an equipment to obtain constant voltage from fluctuating supply system. The industrial units running round the clock usually face the problem of low & high voltage. 90% of industrial load is of motors. Electric motors draw considerably high current at low & high voltage.
This higher current affects the electric motors in these ways:
Higher current produce higher losses in Electric motors which cause premature failure of winding.
These higher current of Electric motors also increase the losses of cables, Switches, Transformers & other associated equipments.
This higher current of Electric motors require 15-20% higher setting of over load relay to avoid frequent tripping of motor's starter. Higher setting of over load relays have very little safety margin against single phasing and over loading conditions.
With the installation of the stabilizer and maintaining 390/400 volts, the motor will operate smoothly drawing 15-20% lesser current and corresponding the relay setting can be reduced by 15-20%. In case single phasing occurs, the relay will trip in 40-50 seconds. The motor can withstand the high current for this period and will be safe. Also the relays, contactors, switchgears, etc. incorporated with the motor will be safe.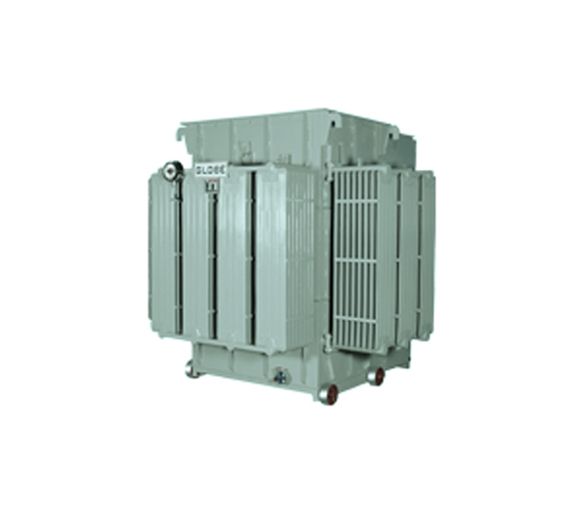 Description of GLOBE Servo Controlled Automatic Voltage Controller:
Linear, plus/minus type vertical Rolling Contact Voltage Regulator

In our Regulator we are using heavy section of electrolytic rectangular copper strip instead of copper wire to minimize the losses & increase the effiency of equipment. We are also using self lubricating Carbon Roller assemblies instead of ordinary carbon brushes which offers more reliability and trouble free performance of the equipment.

Double Wound Buck/Boost type Series Transformer

In our Buck/Boost transformer we are using CRGO lamination to minimize iron losses and coils of Buck/Boost Transformer are wound with heavy section of multi strips electrolytic copper to minimize copper losses for getting better efficiency of the equipment.

Electronic Control Circuit and meter panel

GLOBE'S Automatic Voltage Controller consists of very simple electronic control circuit for monitoring and controlling voltage, repair & maintenance of which is very easy. The regulator and Buck/Boost transformer are oil cooled, housed in same or seperate sheet steel tanks. Radiators are provided for effective cooling. The coils of voltage regulator & Buck/Boost Transformers are vaccum impregnated and oven dried as per IS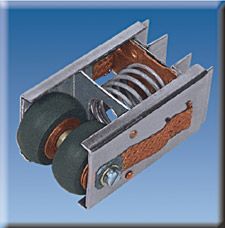 GLOBE Servo Stabilizers are available in a wide range and various models. The standard three phase models are suitable for balanced & unbalanced supply and loads. The standard models confirm to the following specifications :
Input Voltage
360-450 V
350-450 V
340-460 V
340-480 V
320-460 V
300-460 V
Efficiency (Approx.)
99.5%
99.3%
99%
98.9%
98.7%
98.5%
Output Voltage
400 V ± 1%, 3 Phase, 50 Hz.
Cooling
Naturally Oil Cooled
Temperature Rise (Max.)
30° C above ambient
Mounting
On Uni-directional Wheels
Wave form distortion
Virtually Nil
Duty Cycle
100% Continuous
GLOBE MAKE ROLLER TYPE REGULATOR
CONVENTIONAL MAKE WITH CARBON BRUSH REGULATOR
Power consumption is 0.5 to 1.5% depending upon the model and input voltage variation.
Power consumption is 2 to 7% depending upon the model and input voltage variation
The carbon (graphite) Rollers roll, while sliding on the coil track, so contact Point of the roller goes on changing which prolongs the life of the rollers.
Since the contact is by brush having flat surface, wear & tear of the brush requires frequent replacement.
Life at full load is 15-20 years.
Maximum Life is 2-3 years at full load.
Negligible losses in full Buck/Boost Condition.
Max. losses in full Buck/Boost condition.
Five Year unconditional guarantee.
Normal Guarantee for One Year.
Advantages
REDUCTION IN BREAKDOWN OF ELECTRICAL EQUIPMENTS
POWER SAVING (REDUCTION IN POWER BILLS)
IMPROVEMENT IN POWER FACTOR (Only in case of High Voltage)
80% DEPRECIATION AS PER INCOME TAX ACT.
UNIFORM QUALITY OF END PRODUCT
BETTER EFFICIENCY IN PLANT
REDUCTION IN MDI
Quantitave Advantages
Input Voltage Variation
%Reduction in Breakdown Possible
Approx. Power Saving Possible

Motor Load
Lighting Load
Motor Load
Lighting Load
380-400 volts
Nil
Nil
Nil
Nil & No Servo Stabilizer Required
380-420 volts
5%
10%
3%
5%
380-440 volts
10%
20%
5%
10%
380-460 volts
40%
40%
7%
20%
380-480 volts
60%
60%
10%
30%
APPLICATION
Through stabilizer are useful for any kind of application, these are most suitable for 24 hour continuous process plants where breakdown due to fluctuation results in heavy financial losses. These include:
| | | | |
| --- | --- | --- | --- |
| Cement Plants | Tube Mills | Hospitals | Flour Mills |
| Rice Sheller's | Nursing Homes | Engineering Units | Rubber Industries |
| Clubs | Pharmaceutical Units | Tea Estates | Hotels |
| Cold Storage | Food Processing Units | High Rise Buildings | Rolling Mills |
| Oil & Vanaspati Plants | Export Houses | Textile Mills | Footwear & Leather Units |
| Call Centres | Paper Mills | Distilleries & Beverages | |
WHO NEEDS A STABILIZER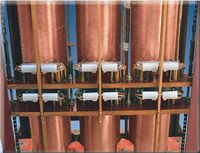 The industrial units having acute /high failure rate of Electrical Equipments such as bulbs,tubes,chokes,starters,contactor coils & motors (particularly smaller capacity motors upto 7.5 H.P.) etc. should verify that it may be due to HIGHER VOLTAGE. You may note down hourly readings of voltage variation for few days. If you find that input voltage is above 230 volts single phase / 400 volts three phase even for few hours a day, then you definitely require a stabilizer.
PAYBACK PERIOD
Owing to its high efficiency and associated benefits, the payback period for the cost of GLOBE Servo Stabilizer is from 6-12 months depending upon the input voltage variation and number of working hours of the plant, The HIGHER the input voltage the SHORTER will be payback period.
BENEFITS OF INSTALLING AUTOMATIC VOLTAGE CONTROLLER ON LIGHTING LOADD
By maintaining 365-380 / 210-220 volts, Three / Single phase output through Automatic Voltage Controller for Lighting Load, there will be definite saving of power bill & reduction in failure rate of lighting equipments. Higher the input voltage - more wil be the savings. The overall effect on the brightness of the lamp at 210 / 220 volts will be negligible.
Our all equipments are guranteed for Five Years against any manufacturing defect/faulty workmanship from the date of supply we shall not charge any thing for the visit and spare parts during the gurantee period.
Installation and commissioning of our equipment will be done under the supervision of our service engineers free of cost.
Free routine checkup from time to time by our experienced technical person to ensure the customers satisfaction and the reliable operation of the equipment